REAPER 4: Free ReaPlugs VST FX Suite
There is an open invitation from the developers of Cockos  REAPER to download a 'comprehensive' collection of the FX plug-ins that come with REAPER, for free!
Download: ReaPlugs VST v2.0 (last updated February 17 2010).
With their highly impressive feature set, the ReaPlugs VST FX Suite is a gift that keeps giving.  They bring an incredible amount of processing power to the mixing party and provide an advanced flexibility unavailable in most DSP effects suites out there.
ReaComp:
Ultra-configurable compressor
Soft knee support
Sidechain filters, sidechain inputs
Feedback compression mode
Program dependent auto-release mode
Variable RMS size
Oversampling antialias modes (with optional limiting)
Optional make-up gain
Optional lookahead
Wet/dry mix
Low CPU use
Useful metering
ReaXcomp:
Unlimited band compressor
Great metering per band
Fantastic sounding filters
Solo current band mode
Tons of controls per band (ratio, threshold, knee, attack, release, makeup, program dependent release, feedback detector, RMS size)
Adjusting bands in graph is easy (modifiers to change ratio, gain, etc)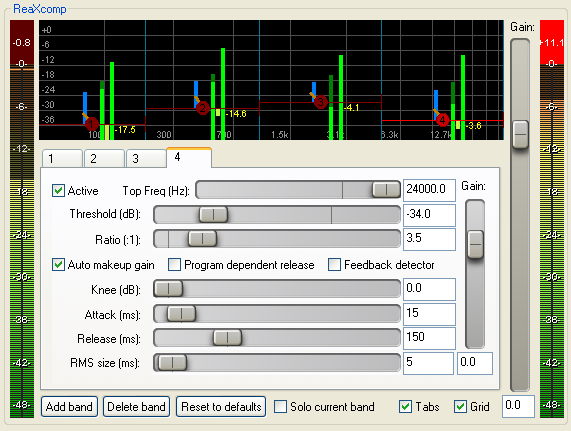 ReaEQ
Unlimited band IIR based equalizer
Support for any number of many types of filters (shelfs, bands, LPF, HPF, notch, bandpass, allpass)
Frequency response and phase response display
Display of approximate note+octave for frequencies
Per-band bypass control
Full-view of graph optional for precise editing
Mouse modifiers/mousewheel usable for editing bandwidth of points in graph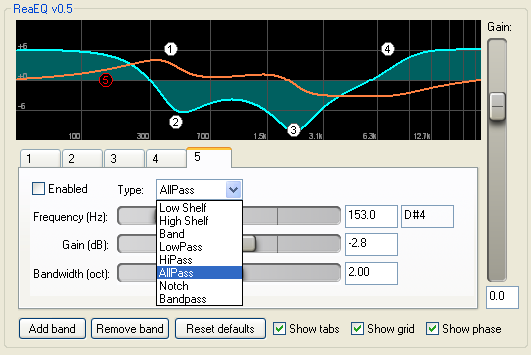 ReaGate
Ultra-configurable gate
Sidechain filters, sidechain input
Lookahead for pre-open
Hold control
Hysteresis control
Variable RMS size
Can send MIDI events on gate open/close
Wet/dry mix, noise mix (can add noise when gate is open)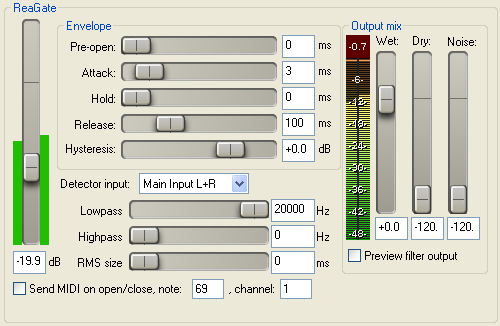 ReaFIR
FFT based dynamics processor
Supports FFT sizes of 128-32768
Useful in/out frequency response display
Supports defining response curves both using any number of points, or freehand mouse
EQ – can be used as a linear phase mastering EQ, or as a super-effective surgical EQ
Compressor – can compress at a fixed ratio with a per-band threshold
Gate – can gate with per-band threshold
Subtract – can build noise profiles and subtract noise from the signal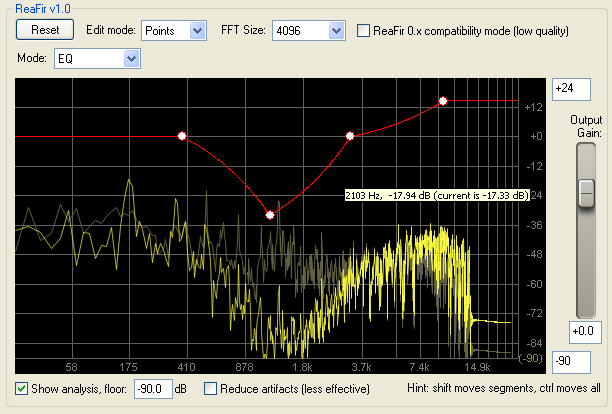 These are just a few of the 'go to' ReaPlug processor plugins we use when producing in REAPER.  Visually, the no frills GUI may seem a little too sparse and some may walk on by because of their apparent lack of visual interest.  However, as sound processors they are highly detailed, CPU friendly, easy to work with and certainly worth a listen.
New in 2.0: ReaJS, ReaControlMIDI
Support for Windows 98/ME/2K/XP/Vista/W7, WINE
Fast, usable UIs with good metering
Low CPU and RAM use
Highly configurable
No copy protection
Portable (copy installed files and run)
Freely usable
———————-
A fully functional no restrictions version of REAPER is available for download
(same link as below).
Cockos Inc. offer two licenses, depending on how you use REAPER.$225:  full commercial license.
$60:   discounted license.Read the pricing details
here
.
Purchasing a license now includes upgrades through REAPER 5.99.
Brought to you courtesy of Soundwrx Digital